Rulluisukoolis on võimalik osa võtta rühmatreeningutest ja eratundidest.
Bring roller skates, a helmet, preferably protective equipment and your own drinking bottle.

Rühmatreeningute toimumisajad leiad Rulluisukooli kalendrist
Rulluisutamine Põhjala tehase angaarides
Talvisel ajal on hea võimalus end transformeerida rataste pealt jääteradele, et käia koos uisuplatsidel ja loodusliku jää peal liuglemas.
Detsembris saame kokku üle nädala reedeõhtuti Pirita uisuväljakul ja teeme ühisuisutamist – 2. detsember, 16. detsember, 30. detsember.
Kell 19:00-21:00 vaba uisutamine Freeskate Movement
Kell 19:00-20:00 jääuistuamise treening, kus õpetame erinevaid elemente ja trikke huvilistega

Oodatud on kõik lapsed, noored ja täiskasvanud.
Liuvälja pilet, vaba uisutamine 4€
Treening 1x 5€
Võta liuvälja pilet ja vajadusel laenuta ka jääuisud, mille saad uisuväljaku kõrval asuvast tervisespordihoone kassast.
Naudi liuglemist!
Rühmatreeningud toimuvad igal nädalal kindlal ajal koos teiste osalejatega. Osad rühma workshopid võivad toimuda ka ebaregulaarselt ja erinevates kohtades sõltuvalt treeningu teemast. Kõiki treeninguid ja workshoppe saab jälgida Rulluisukooli kalendri kaudu, kust saab samuti ennast registreerida sobivatele treeningutele. Regulaarseks osalemiseks on huvilisel soovitatav soetada kuukaart või 5x kaart. Suvine välihooaeg kestab maist kuni umbes septembri keskpaigani, sõltuvalt ilmadest. Talvine sisehooaeg tavaliselt novembrist kuni märtsi lõpuni.
NB! Suvisel hooajal toimuvad rühmatreeningud iga ilmaga. Kuid peale märgades tingimustes rulluisutamist on soovitatav teha lihtne pesu ja laagrite õlitus veel samal päeval.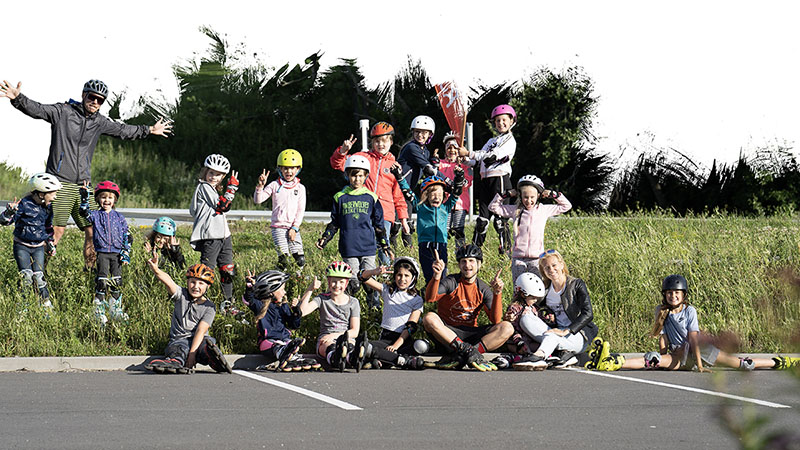 If there is no suitable training time for you in group lessons, you prefer a more individual approach or you want to practice with your group, we can offer private training, taking into account your special wishes.
The trainings take place at the agreed time and place as field training, driving training.
Its easier to get started with rollerblading on-site training, perform developmental exercises and learn various important techniques for rollerblading. A larger asphalt site with many other confounding factors is suitable for learning.
Driving training allows you to learn to skate in real situations. It is possible to offer routes of different lengths and characteristics, some allow you to develop your Freeskate skills better, others allow you to focus more on driving techniques. The basic skills of roller skating could be acquired in advance for driving training.
In private trainings we can focus on different levels and styles - basic roller skating skills, high-speed roller skating, freeskate roller skating, reverse roll skating, basic trick roller skating or Heelys sneakers technique.
Treeningute soovitatavad asukohad: Pirita velotrekk, Lauluväljak, Lillepi park, Tondiraba park, Vabaduse väljak
Personal training can be agreed through the registration form and prices are available here!
In the trainings of roller skating school, we start with Freeskate roller skating, which includes different skating styles (subtypes) such as speed roller skating, trick roller skating, off-road, downhill roller skating and combines different roller skating skills. Freeskate roller skating teaches you how to handle roller skates more skillfully in different conditions, using different braking methods, speed, turns, jumps, slides, acceleration, rolling on one leg, reversing and many other important techniques to better control roller skates. All these freeskate skills give the skater the freedom to navigate in most places in the urban landscape, freely passing various obstacles such as rolling on the lawn, driving on gravel roads, crossing stairs, descending a hill, climbing, etc. 
All of these skills can be honed and developed indefinitely by learning and combining different skating styles and their skills. We do Freeskate rollerblading because it is exciting, opens up many opportunities in rollerblading and gives you the freedom to move wherever possible. This is a great roller skating style, especially for children, as it provides a strong and wide range of basic skills that are easy to practice in other roller skating or sports. The length of training is 1 - 1.5 hours depending on the age group and training.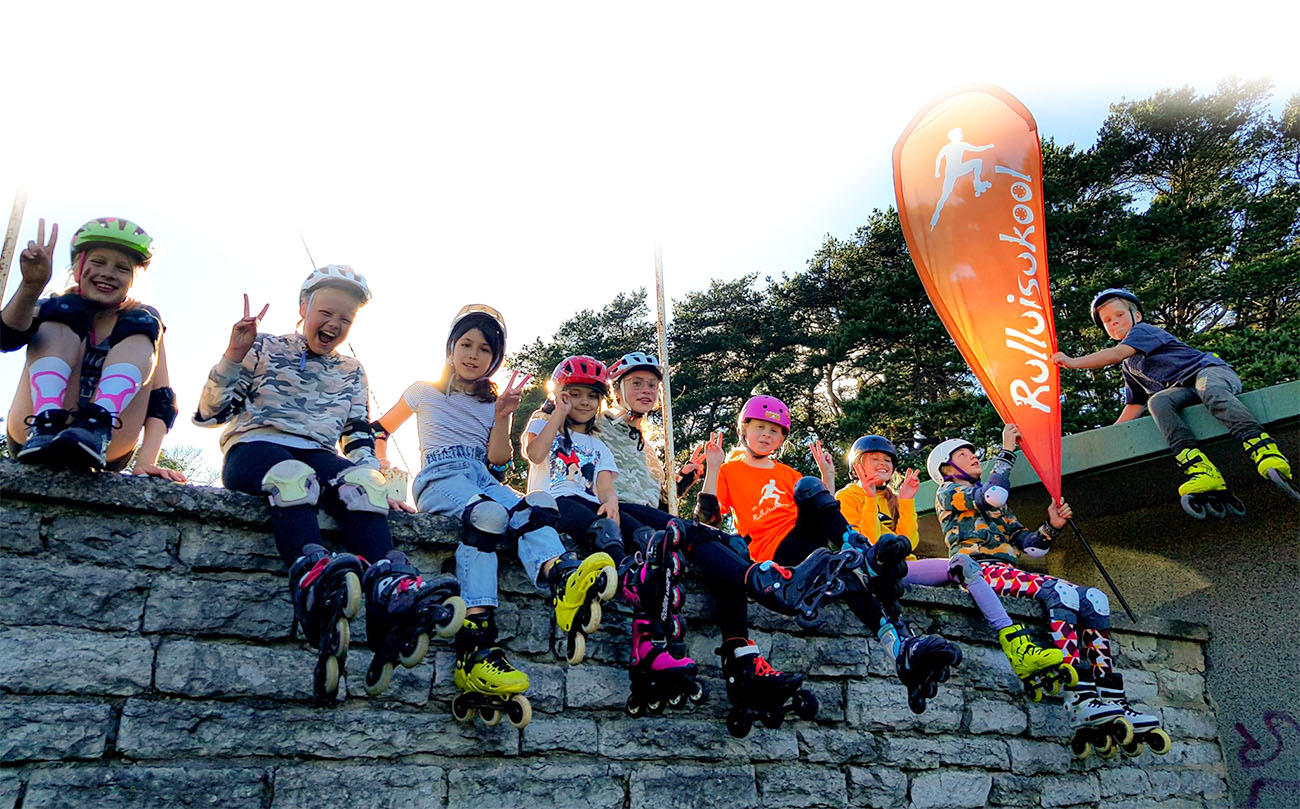 Rulluisukoolis toimuvad treeningud kõigile vanusegruppidele. Laste treeningutel õpitakse rulluisutamist läbi tegevuste, harjutused on vaheldusrikkad ning õppeprotsessi põimitakse erinevate takistuste läbimist, sõidutreeningut ja mängulisi elemente, et lapsi innustada. Alates viiendast eluaastast on hea aeg alustada lastel rulluisutreeningutega.
Treeningud toimuvad nii algtasemel, kui ka Freeskate tasemel
Täiskasvanutel ja noortel on võimalus treeningutest osa saada tervikliku kursusena, mis koosneb erinvevatest teemadest ja toimuvad nii algtasemele, kui edasijõudnudele. Soovitatav on osaleda kõikides treeningutes, kuid võimalik on ka üksikutest trennidest osa võtta ja lisaks toimub ka eraldi workshoppe. Treeningutel viiakse teoreetiline ja praktiline osa omavahel kokku, selgitades lahti miks ja kuidas erinevaid tegevusi/harjutusi tehakse.
Freeskate ja algtaseme KURSUS
Basic level (Basic skills)
Algtaseme treeningutel õpitakse kõiki tähtsamaid võtteid uiskudel valitsemiseks ja ei puudutata kohe keerulisemaid Freeskate rulluisutamise oskuseid. Kõigepealt tasub osaleda esmakordsel koolitusel, et omandada fundamentaalsed põhitõed, siis on lihtsam jätkata teiste algtaseme teemadega.
Freeskate Level
Freeskate treeningutes osalemiseks eeldame osalejatelt rulluisutamise põhioskuste olemasolu või rulluisutamise algtaseme kursuse läbimist. Kui oled juba edukalt läbinud algtaseme kursuse ja omandanud lihtsamad Freeskate põhitõed, on Sul on lihtne kaasa teha Freeskate taseme treeninguid, osaleda sõidutreeningutel, õppida tagurpidi rulluisutamist, võtta osa Freeskate Movement sündmustest ja teha rulluiskudel palju muud põnevat.
PS.
Freeskate taseme treeningutel on oluline, et sinu rulluiskudel ei oleks kannaklotsi.
If you want to offer your team, group or friends a memorable and developing joint event, training, trip or rollerblading party, then invite Rollerblading School!
Our team organizes a sporting and entertaining experience. Be it a skating workshop, a roller skating trip, a roller skating competition, roller skating aerobics, a birthday, roller hockey or something else exciting.
Skateboarding activities can be performed both indoors and outdoors, anywhere with a hard surface and space. We can offer events at your favorite places, or we will come to you. If necessary, we will bring some additional trainers to help and we will arrive with a skating cart to rent roller skating equipment. 
We are happy to work with schools, kindergartens and sports centers to promote rollerblading among young people and provide ice skating opportunities. We dream that children would also have the opportunity to go skating regularly in schools, or they would have the opportunity to get acquainted with skating during physical education classes. Inline skating is a very versatile and exciting way of movement and training that develops balance, dexterity and provides a good, versatile base. We also train movement teachers so that the institution has the opportunity to pass on the basics, skills and most important exercises of roller skating to students if they are interested in skating more regularly.
Rulluisutrenni 5-KORRA KAART
Siseruumides lisandub lisatasu
Põhjala tehas (1000m2 angaar) 1h – 84€
Tallinnast ja Viimsist väljaspool toimuvatele treeningutele, lisandub sõidukulu
Rulluiskude rent 4€
kaitsmed 2€
Kiiver 1€
Treeningute eest saab tasuda ülekandega või kohapeal sularahas.
Please indicate in the explanation: the name of the student, which training option is it (one-time training + training date / monthly card / 5x card / personal training).