At the roller skating school it is possible to take part in group trainings and personal lessons.
NB! Group trainings take place in any weather. Simply when driving on wet surfaces, it is recommended to wash and oil the roller skate bearings on the same day or to do more proper maintenance.
Bring roller skates, a helmet, preferably protective equipment and your own drinking bottle.
Group trainings take place at a specific time each week with other participants. Some group workshops may also take place irregularly and in different places depending on the training topic. All trainings and workshops can be followed through the roller skating school calendar, where you can also register for suitable trainings. For regular participation, it is recommended to purchase a monthly card or a 5x card. The summer outdoor season runs from May to around mid-September, depending on the weather. The winter season is usually from November to the end of March.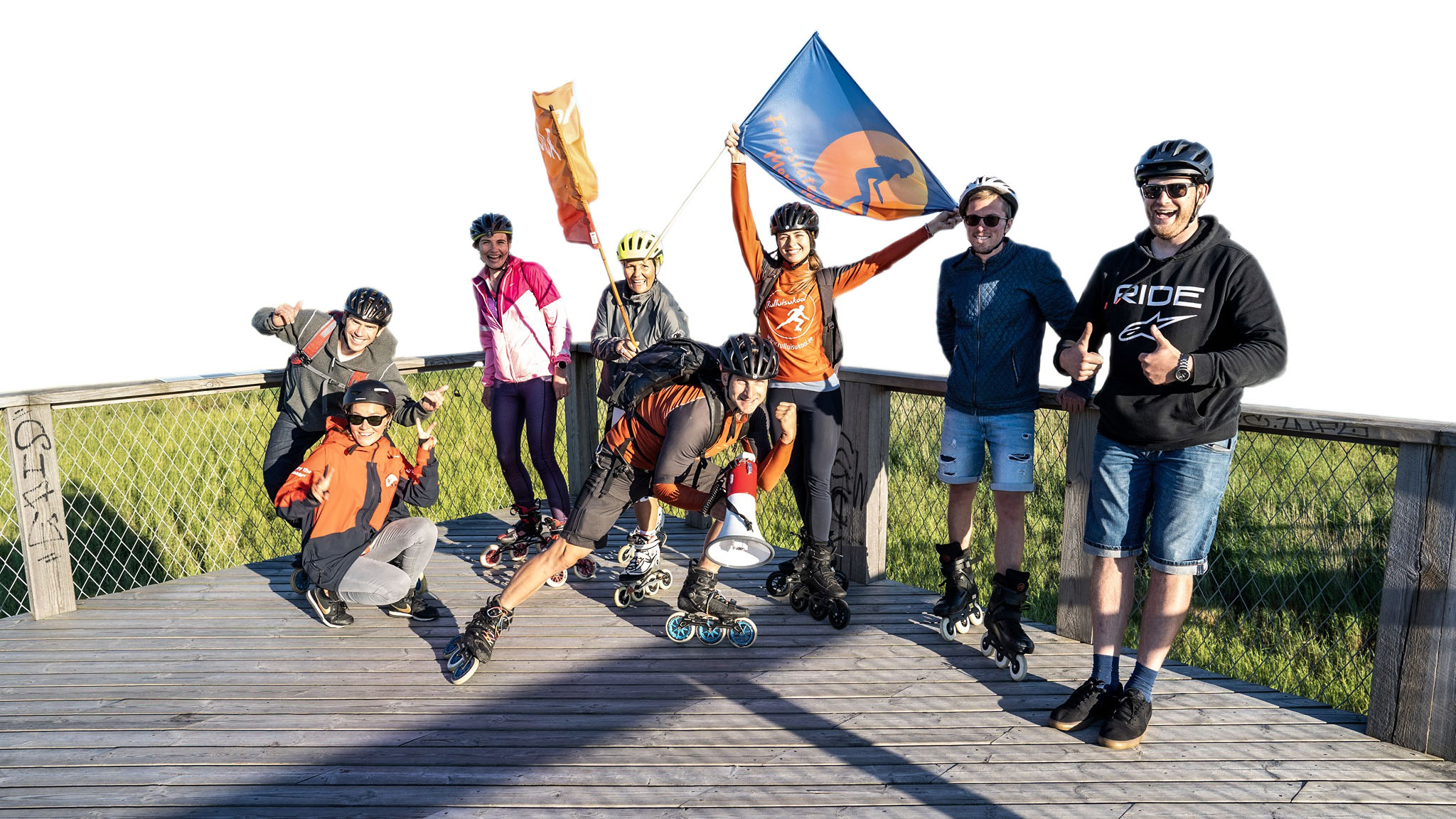 If there is no suitable training time for you in group lessons, you prefer a more individual approach or you want to practice with your group, we can offer private training, taking into account your special wishes.
The trainings take place at the agreed time and place as field training, driving training.
Its easier to get started with rollerblading on-site training, perform developmental exercises and learn various important techniques for rollerblading. A larger asphalt site with many other confounding factors is suitable for learning.
Driving training allows you to learn to skate in real situations. It is possible to offer routes of different lengths and characteristics, some allow you to develop your Freeskate skills better, others allow you to focus more on driving techniques. The basic skills of roller skating could be acquired in advance for driving training.
In private trainings we can focus on different levels and styles - basic roller skating skills, high-speed roller skating, freeskate roller skating, reverse roll skating, basic trick roller skating or Heelys sneakers technique.
Recommended training locations:
Pirita velotrekk, Lauluväljak, Lillepi park
Personal training can be agreed through the registration form and prices are available here!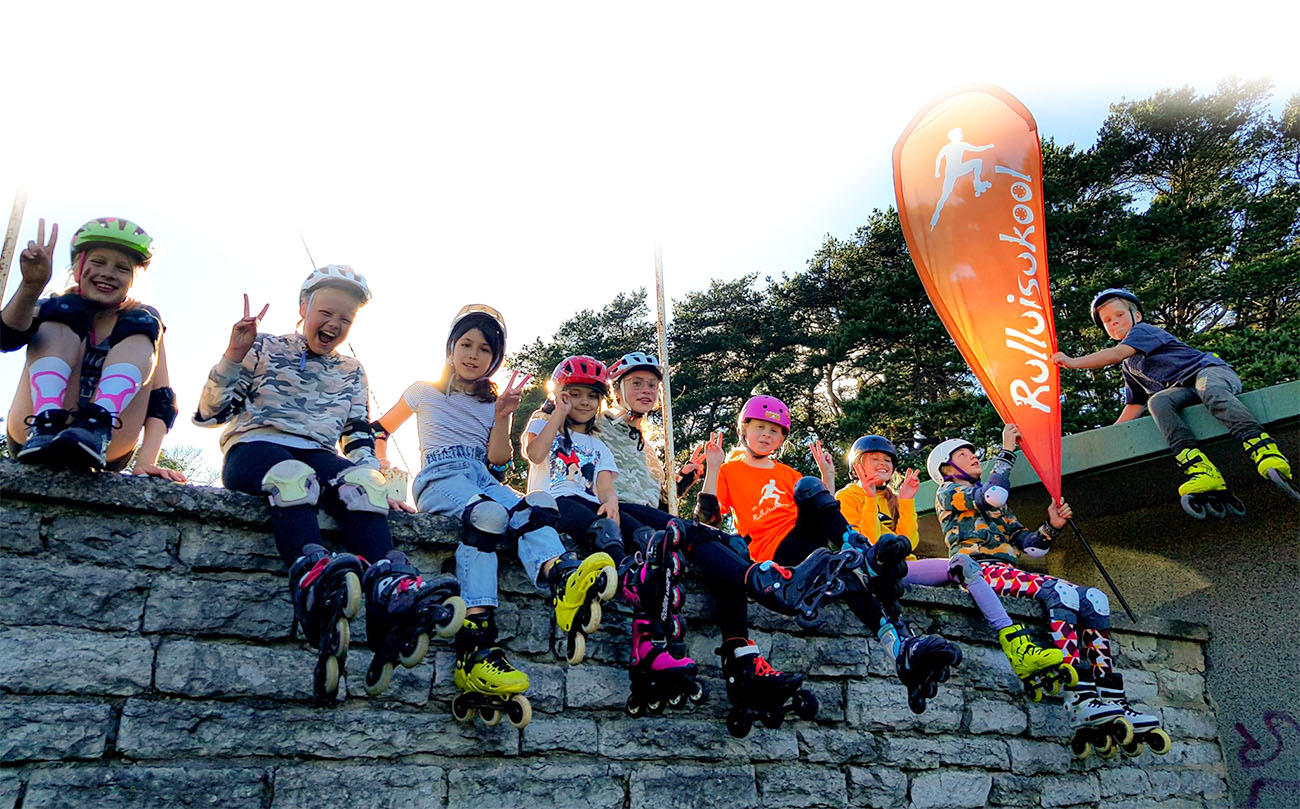 In the trainings of roller skating school, we start with Freeskate roller skating, which includes different skating styles (subtypes) such as speed roller skating, trick roller skating, off-road, downhill roller skating and combines different roller skating skills. Freeskate roller skating teaches you how to handle roller skates more skillfully in different conditions, using different braking methods, speed, turns, jumps, slides, acceleration, rolling on one leg, reversing and many other important techniques to better control roller skates. All these freeskate skills give the skater the freedom to navigate in most places in the urban landscape, freely passing various obstacles such as rolling on the lawn, driving on gravel roads, crossing stairs, descending a hill, climbing, etc. 
All of these skills can be honed and developed indefinitely by learning and combining different skating styles and their skills. We do Freeskate rollerblading because it is exciting, opens up many opportunities in rollerblading and gives you the freedom to move wherever possible. This is a great roller skating style, especially for children, as it provides a strong and wide range of basic skills that are easy to practice in other roller skating or sports. The length of training is 1 - 1.5 hours depending on the age group and training.
Children, young people and adults
The roller skating school offers trainings for all age groups. In children's training, roller skating is learned through activities, the exercises are varied and playful elements are also integrated into the learning process to inspire children.
In the training for young people and adults, the theoretical and practical parts are brought together, explaining why and how different activities / exercises are done.
Training plan for beginners
If you want to offer your team, group or friends a memorable and developing joint event, training, trip or rollerblading party, then invite Rollerblading School!
Our team organizes a sporting and entertaining experience. Be it a skating workshop, a roller skating trip, a roller skating competition, roller skating aerobics, a birthday, roller hockey or something else exciting.
Skateboarding activities can be performed both indoors and outdoors, anywhere with a hard surface and space. We can offer events at your favorite places, or we will come to you. If necessary, we will bring some additional trainers to help and we will arrive with a skating cart to rent roller skating equipment. 
We are happy to work with schools, kindergartens and sports centers to promote rollerblading among young people and provide ice skating opportunities. We dream that children would also have the opportunity to go skating regularly in schools, or they would have the opportunity to get acquainted with skating during physical education classes. Inline skating is a very versatile and exciting way of movement and training that develops balance, dexterity and provides a good, versatile base. We also train movement teachers so that the institution has the opportunity to pass on the basics, skills and most important exercises of roller skating to students if they are interested in skating more regularly.
Training can be paid for in advance by bank transfer or on site in cash.
Please indicate in the explanation: the name of the student, which training option is it (one-time training + training date / monthly card / 5x card / personal training).